A Dark Comedy by Sheila Callaghan
Directed by May Adrales
Sponsored by Patricia Rissler and James Rogers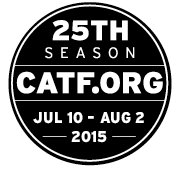 Victor is a ruthless 1970s fashion designer and a devotee of the "beauty-is-pain" aesthetic. Esme, his glamorous lover and muse, is pushed aside when an ordinary Midwestern woman, Louella, inspires Victor to make his artistry accessible to the masses. A generation later, Jess, a self- loathing woman, wrestles her own family demons to find her way through the world of fashion that will not give her a second look. Flashing back and forth in time, Everything You Touch is a fierce, lushly written dark comedy that exposes the struggle to find an identity that is more than skin deep.
SHEILA CALLAGHAN
Sheila Callaghan's plays include That Pretty Pretty; Or, The Rape Play, Roadkill Confidential, Scab, Crawl Fade to White, Crumble (Lay Me Down, Justin Timberlake), Lascivious Something. Other credits: Soho Rep, Playwright's Horizons, South Coast Repertory, Clubbed Thumb, The LARK, Actor's Theatre of Louisville, New Georges, Woolly Mammoth, and Rattlestick Playwright's Theatre, among others.
Callaghan was profiled by Marie Claire as one of "18 Successful Women Who Are Changing the World" and also named one of Variety magazine's "10 Screenwriters to Watch" in 2010. Sheila is the recipient of the Princess Grace Award for emerging artists, a Jerome Fellowship, a MacDowell Residency, a Cherry Lane Mentorship Fellowship, the Susan Smith Blackburn Award, and the prestigious Whiting Award. Sheila is also a resident of New Dramatists.
---
Everything You Touch is an original work commissioned by True LoveProductions. World Premiere produced in Pasadena California April 2014 by The Theater@Boston Court with Rattlestick Playwright's Theater.
Frank Center Theater, 260 University Drive
Run time: 120 minutes
Contains explicit language and partial nudity. For mature audiences only.
---
CAST
Jess…Dina Thomas*
Victor…Jerzy Gwiazdowski*
Esme…Libby Matthews*
Louella…Marianna McClellan*  
Lewis… Mark Thomas*
Model…Molly Brown 
Model…Allyson Malandra*
Model…Sarah Nealis*
Model…Adam Phillips
Model…Katya Stepanov*
Model…Liba Vaynberg*
*Actors' Equity Association
---
CREATIVE TEAM
Set Designer David M. Barber
Costume Designer Peggy McKowen
Lighting Designer John Ambrosone
Sound Designer David Remedios  
Projection Designer Shawn Duan 
Technical Director Ryan Cole 
Stage Manager Tina Shackleford
Composer Nathan A. Roberts