A New Play Commission by Barbara Hammond
Directed by Tea Alagić
WORLD PREMIERE
Commissioned and Sponsored by Jenny Ewing Allen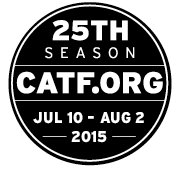 In February 2012, five young women walked into the Church of Christ the Savior in the center of Moscow and offered up a punk prayer to the Mother of God—"Virgin Mary, Chase Putin Away!" The young activists, who call themselves Pussy Riot, played and shouted for exactly 48 seconds before being dragged out of the church by security guards and sent home. That night they uploaded a video of their performance to YouTube, and within hours became enemies of both Church and State. The girls were arrested, tried, and sent to labor camps for hooliganism and inciting religious hatred. But unlike dissidents from Soviet times, the Western media machine took hold of the story and turned Pussy Riot into the greatest piece of performance art in Russian history. This is their story.
BARBARA HAMMOND
Barbara Hammond is a New Dramatists resident playwright (Class of2018) and currently under commission from both the Royal Court Theatre and the Contemporary American Theater Festival.
Awards: 2014 Seven Devils Theatre Conference; the 2012 Helen Merrill Distinguished Playwright Award; 2010-2014 Yale Playwrights Festival mentor; a 2011 Edward Albee Foundation Fellow; a Tyrone Guthrie Centre repeat resident in Annaghmakerrig; finalist at the Tennessee Williams One-Act Play Festival and the Kerouac Project; Special Jury Award, First Irish 2009 Theatre Festival. She is a member of ASCAP and the Dramatists Guild, and was named one of the Influential Women of 2011 by the Irish Voice.
Film: Directors' Award, San Francisco International Shorts Festival and June Weddings with Tom Noonan and Elzbieta Czyzewska.
---
Supported, in part, by Grants from the Laurents/Hatcher Foundation, the National Endowment for the Arts, and the Venturous Theater Fund of the Tides Foundation.
Marinoff Theater, Center for Contemporary Arts/II, 62 West Campus Drive
Run time: 100 minutes
Contains graphic language. For mature audiences only.
---
CAST
Nadya…Libby Matthews*
Masha…Liba Vaynberg*
Katya…Katya Stepanov*
Female Roles…Sarah Nealis*
Sergei/Putin/Male Ensemble…T. Ryder Smith*
Guard/Male Ensemble…Cary Donaldson*, Adam Phillips
Female Ensemble…Allyson Malandra*, Keyla McClure, Brianne Taylor
*Actors' Equity Association
---
CREATIVE TEAM
Set Designer Peter Ksander
Costume Designer Trevor Bowen
Lighting Designer D.M. Wood
Sound Designer Elisheba Ittoop
Video/Projection Designer Matthew Haber
Technical Director Josh Frachiseur
Production Stage Manager Deb Acquavella