CATF Talks to Playwright Thomas Gibbons
Researched, interviewed, and edited by Sharon J. Anderson, CATF Trustee/Professional Storyteller
CATF:  What does "uncanny valley" mean?
TOM: It comes from the field of robotics.  It is the idea that people are fascinated by an artificial being that is somewhat human-like, but the closer it comes to being more truly human-like, it becomes creepy.
CATF: Why write a play about it?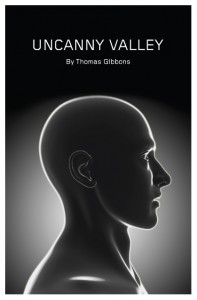 TOM: The sound of the words – uncanny valley – really appealed to me.  I didn't have a title when I started the play, but I like to have a title as early as I can.  I also liked that no one knew what it meant.  I have a weakness for cryptic titles.  Also, when I go to the theater, I like a certain element of mystery – not a "who-done-it", but a certain amount of mystery where I don't quite know what I'm in for.
CATF: What do you want your audience to have realized after seeing "Uncanny Valley"?
TOM: That's the kind of question that I really don't like to answer. I hope that 20 different people will walk out with 20 different things. However, one of the things I want people to think about is this: as technology blurs the line between human and mechanical, artificial or whatever word you want to use – how is that going to change our definition of humanity?
CATF: "Uncanny Valley" has been described as traveling "to the ethical heart of humankind's bid to outrace mortality."  What's that about?
TOM: The idea for the play came from a National Geographic article [click for story] that I came across in my dentist's office a couple of years ago.  The article was about the LifeNaut Group in Vermont [visit LifeNaut website here] which is exploring the idea of downloading human consciousness into a mechanical or artificial body in order to extend our life span by hundreds of years.  People in this field seriously talk about immortality. That article included a photo that I found absolutely fascinating and haunting . . . I just couldn't get it out of my mind. One of the LifeNaut engineers is sitting in a chair facing a table on which is an artificial head. This head is called Bina 48, and she is probably the most advanced robot in the world right now. I've since found out through research that lots of other people are working on this very idea.  In fact, an article in the New York Times last June entitled, "This Man is Not a Cyborg, Yet" [click here to read article] is about a Russian multi-millionaire named Dmitry Itskov who is putting a lot of money into this idea because he wants to live for a long, long time.
CATF: Do you want to live for a long, long time? Do you want to be immortal?
TOM: No, I don't want to be immortal, but it is hard to answer that question.  What does immortality mean?  Dmitry Itskov is having a cyborg created that is basically identical to him. By the way, I had never heard the term, "uncanny valley" before I read that National Geographic article.  So I started to do some research.  It's a really well-known concept in the field of robotics, artificial consciousness and the whole field of computer animation.
As I began to work on the play, the word, "valley" became very important because it has many metaphysical implications: the valley between life and death, the valley between the creator and the created, the valley between parents and children.  I've come to realize that this play is very much about parents and children.
CATF: What was the first play that made an impression on you?
TOM: The year I graduated from college, I went to England and saw a lot of plays.  One play in particular called, "Destiny" made a huge impression on me.  It was about the rise of right-wing politics in England, and I was struck that "Destiny" was about something happening in England at that moment. I decided that I wanted to write plays that were very urgently of the moment. "Uncanny Valley" actually takes place 40 years into the future, but it's of the moment in that is deals with research that is happening now and just extrapolates from that.
One of the important questions the play asks is this: Is Julian (the artificial human) conscious?  Even though the field of study I've been researching is called, "artificial intelligence", it seems to me that what researchers are really talking about is "artificial consciousness". They are a little bit slippery about the distinction.
CATF: What is the distinction?
TOM: In my play, Claire (the human) says, "There are people in my field who don't make much of a distinction; they say that to be conscious is to know. But that's not true.  To be conscious is to know we know."  This is the fulcrum of the play.  What is consciousness?  How do we measure it? How is it signified? Can an artificial being be truly conscious?
On the face of it, the play is very simple: two characters in one room and the relationship between a neuroscientist and an artificial being, but as the play goes on, it gets deeper and deeper and deeper.
CATF: Do you like one character more than another? And why is the scientist female and the artificial being male?
TOM: I like them both. I first wrote the play for two actors I knew and they, in fact, did the first reading of the play.  But the more I worked on it, the more I realized that the scientist really needed to be a woman.  I thought the play would be too icy if it were two men.
CATF: So a woman brings a certain warmth that you needed?
TOM: Exactly. And then Julian ended up being much younger, so the two original actors were no longer right for the parts.
CATF: So this is where the mother and child dynamic comes in?
TOM: That is part of it, yes. Whenever you write a play, you always hope it will go in directions you didn't plan or expect.  I didn't realize when I started it that it was so much about parents and children.  My wife and I have a son who is now in his first year of college. When I started the play, I was acutely aware that he wasn't going to be around here much longer and very much thinking about how much I was were going to miss him. Those feelings worked themselves into the play . . . in some things revealed about Julian and in some things that Claire reveals about the past and her own daughter.  The play really is about actual and metaphorical parenthood.
CATF: What is the best thing and the worst thing about being a parent?
TOM: There are so many great things about it.  The best thing is just seeing how this being that you helped to bring into the world grows and develops and changes; and how completely fascinating that is on a day-to-day level.  The worst thing is realizing that you raised your child to be a separate being and there is something definitely bittersweet about that. You can raise a child and be with them constantly from the time they are born and – any parent knows this – you will be surprised by something at some point. You think you know everything about your child, but you don't.
CATF: Here's a "101" question: what percentage of the play you originally wrote ends up being the one we see on the stage?
TOM: At the moment, I'm working on draft #15. The reading and research never ends. I finish a draft, and then it away for a couple of months. Then I go back to it because I want to make the play deeper and richer — to have what I call, "poetic density". It's not just what the characters are saying, but also what is being suggested.
CATF: Why do you keep your eyes open like you did that day in the dentist office?
TOM: I read the papers like a mad man everyday because most of the ideas I have for plays have come from things that I've read.  I know I've hit on a good idea when I can't forget something I've read, but I deliberately don't start writing right away.  I let it sit, and if I still can't forget it in a couple of months, it probably needs to be written.  And I'd like what I've written not to forgotten by the folks who see my plays.
The CATF production will be directed by Tom Dugdale.
"Uncanny Valley" is presented as part of a National New Play Network Rolling World Premiere in conjunction with San Diego Repertory Theatre and InterAct Theatre Company.
Visit the interviewer's website here.
https://catf.org/wp-content/uploads/2020/06/CATF_EmailHeader-1.jpg
0
0
Ed Herendeen
https://catf.org/wp-content/uploads/2020/06/CATF_EmailHeader-1.jpg
Ed Herendeen
2014-05-11 14:18:18
2014-05-11 14:18:18
CATF Talks to Playwright Thomas Gibbons